map
Possibilities of orientation: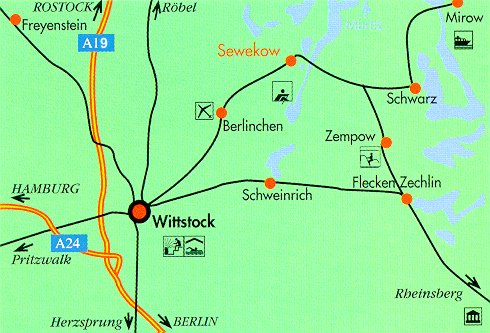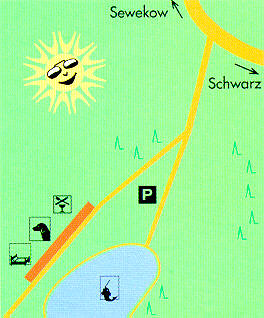 Dear holiday-maker!
Our holiday estate "Am Grundlossee" is located directly at the regional border between Brandenburg and Mecklenburg Vorpommern at the Mecklenburg lake district in the village Sewekow.
You can reach us over the motorway exit Wittstock/ Dosse from direction Rostock A19 and from direction Berlin A24. After leaving the motorway you drive right in direction Wittstock.
At the 1. roundabout you take the 2. exit and drive to the 2. roundabout. Here please take the 2. exit and drive about 200 m straight ahead until at the left comes a bypass (direction Röbel). A roundabout will build here soon. Drive the bypass until the end and turn to the left, pass the railway and turn to the next street in about 50 m on the right.
Follow the street (Rackstätter Weg) until the end and turn to the right on the K6823 and follow the street until Sewekow. After approximately 18 km you have reached Sewekow. Please drive through the village until you pass the yellow place name sign of the end of the village. After a steep right turn (about 150 m) you turn right again (look at the signpost) and follow the way to the parking place. Now you have reached your goal.
Please call our member of staff shortly and you will be received heartily in reception.
You can find the telephone number directly on the sign at the parking place.
We wish a good arrival.
---